---
Enjoy your life, let your PC doing the job !!

---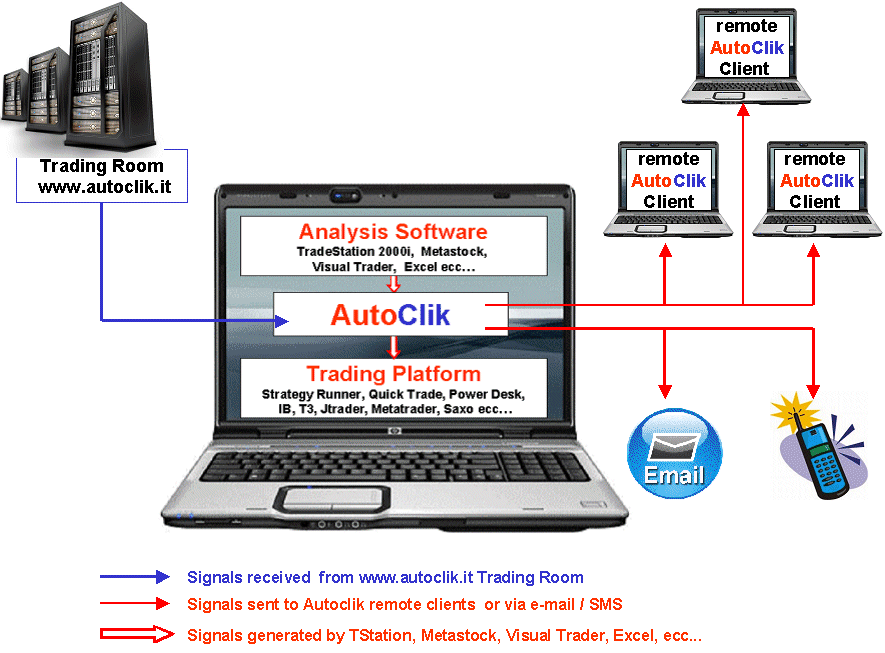 ---
AutoClik is a proprietary software that turs your PC in a trading robot that executes automaticallly Buy/Sell signals generated by Trading Systems. It work with almnost any TOL platform. It's not a dream it's reality !!
---
Famous Technical Analysis programs are very powerful tools for developing, testing and and optimizing simple or complex trading algorithms and strategies commonly known as Trading Systems.
In other word programs such as Metastock, Tradestaion etc... are made for developing Trading Systemes and for measuring past results helping in giving answers to the most common questions that a serious trader should ask himself and in particular:
In case I had used this Trading System:
- how many trades I would made?
- how much would be my gain?
- how much would I have risked to lose?
- how much would I have paid in commision to the broker?
- how much capital would I have needed to sustain the drawdown?
- what system's profit factor would be?
- what system's average trade would be?
- etc...

Click here to view a typical Trading System report genrate by TradeStation 2000i

unfortunately they have a big limit:
they are in general not able to execute automatic trading.
The trader has to stay in fort of his PC waiting for the signal and then executing it manually.
In other words is the human being tha has to bear the duty of trade execution.

---
AutoClik solved the problem !!!!
Now your PC make all the work: signal generation and signal execution
Enjoy your life, let your PC doing the job !!
Oggi con AutoClik il trader può godersi la vita mentre il proprio PC svolge tutto il lavoro !
(*) Attention ! No warranty is given on correct execution of the orders. Autoclik's authors are not responsible for any problem, loss or damages whether directly or indirectly caused or connected by the usage of Autoclik.
Non si assume responsabilità alcuna per danni diretti, indiretti o consequenziali derivanti dall'uso di Autoclik o dei trading systems presenti su questo sito.

---